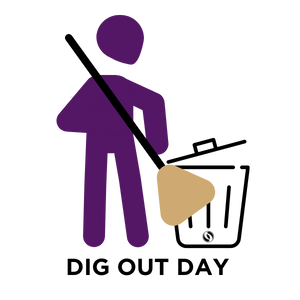 What is Dig Out Day?
The Dig Out Day concept encourages everyone in the company to do their part in cleaning up their workspace. During this time, we encourage everyone to reflect and review their desks, rooms, and general storage spaces and declutter the mess. This opportunity will also give us time to return all "rental equipment" that we have decided to use in our everyday work areas that have become a fixture and commonplace.
Let's Dig!
When:

Dig Out Week

November 7th - November 11th
What To Do:
There will be large Gaylord boxes stationed in each department and office with a
Dig Out Day logo attached. Please utilize these

boxes to dump
your unwanted stuff, we will take care of the rest.
The department with the most trash wins an Event Source Sweatshirt and Knit hat!
Dig Out Day Considerations- When To Dump!
•

Is there something you're saving and haven't had a need to use in the last 12 months?
• Do you have rental equipment at your workstation that could be returned back to inventory?
• Does the thought "I'll get to this mess later" come across your mind?
• Question yourself if you really need to keep it laying around taking up space.
• Is it something that can be converted to an electronic file and saved on the network?